Friday, July 31, 2009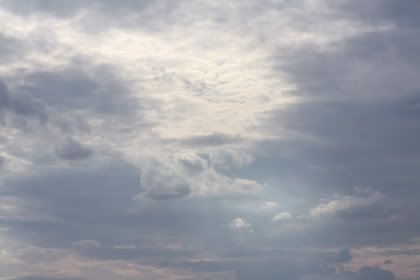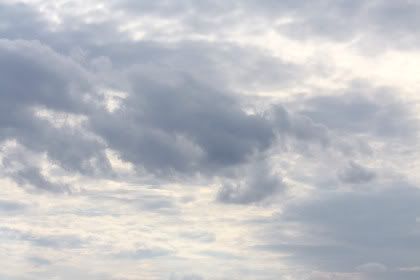 The sun is behind pink cast clouds, illuminating them.
Posted by

Marilyn
at 7/31/2009
No comments: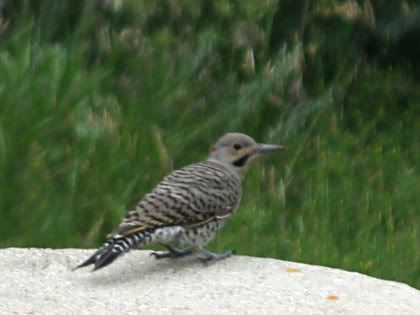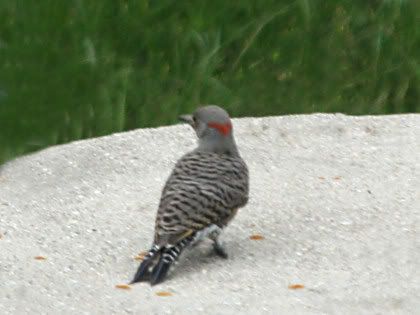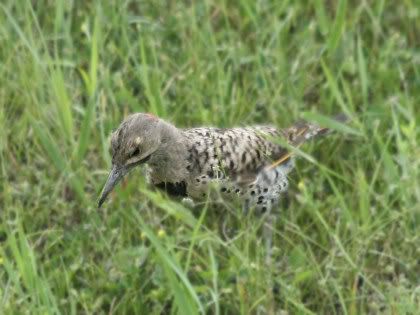 These were pretty poor quality pics and took some post-processing to make them as presentable as you see here.
There were two or three flying around so the one in the grass is not the same bird, but appears to have all the same markings, plus it shows the black patch on the breast.
Markings of Note:
That thin line of yellow feathers
Tan face
Gray crown
Black crescent on breast
Red crescent on nape
White rump
Black mustache stripe (male)
enature
Northern Flicker (Colaptes auratus)
cornell
Posted by

Marilyn
at 7/31/2009
No comments:

Thursday, July 30, 2009
Zooming in on this nice new field specimen and hark!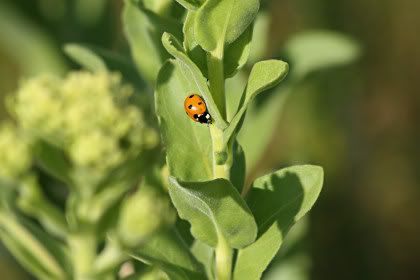 Lady bug alert!
My first good lady bug pic. Yay!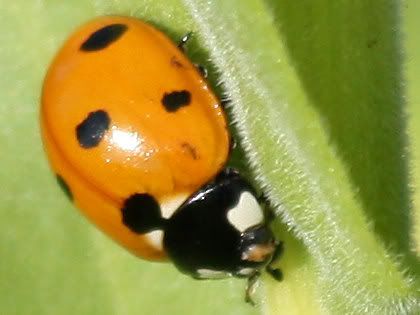 bugguide
Coccinella septempunctata - Seven-spotted Lady Beetle
Classification
Kingdom Animalia (Animals)
Phylum Arthropoda (Arthropods)
Class Insecta (Insects)
Order Coleoptera (Beetles)
Suborder Polyphaga (Water, Rove, Scarab, Longhorn, Leaf and Snout Beetles)
Superfamily Cucujoidea (Flower, Flat Bark and Ladybird Beetles)
Family Coccinellidae (Ladybird Beetles)
Genus Coccinella
Species septempunctata (Seven-spotted Lady Beetle)
Plant as yet unidentified.
Ladybug Bug: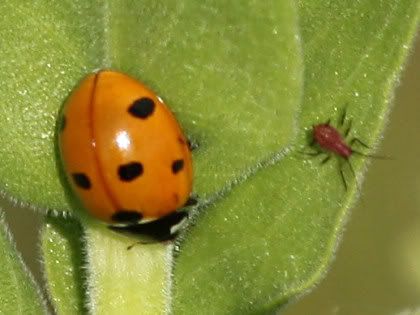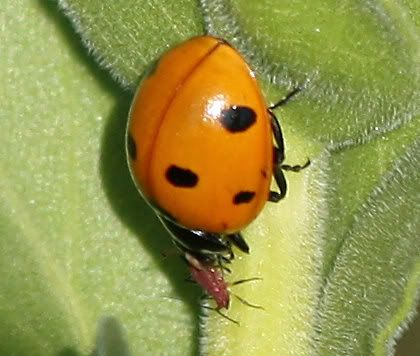 UPDATE 1 Aug 09: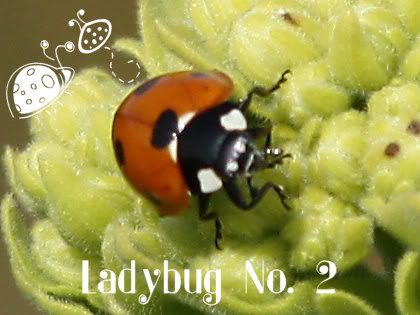 The ladybug remains on the same plant and I can predictably visit and photograph every field trip. Fun! I'm getting lots of pics in every pose imaginable. There are at least two of them on the plant, which I think is some kind of goldenrod, but am waiting for it to blossom before posting. Ladybug no. 2 is a darker color but has the same markings. I don't know if the color difference means anything of significance or not.
Posted by

Marilyn
at 7/30/2009
No comments:

Sunday, July 26, 2009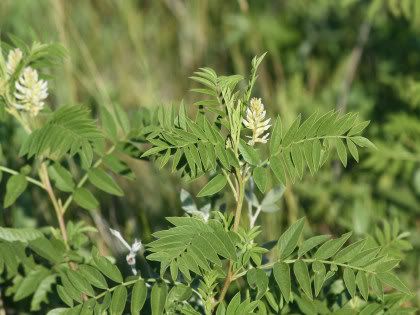 I thought this was yet another vetch, but after looking thru the
Bean Family
yet again, I think it is Wild Licorice.
I thought the leaves were wonderful: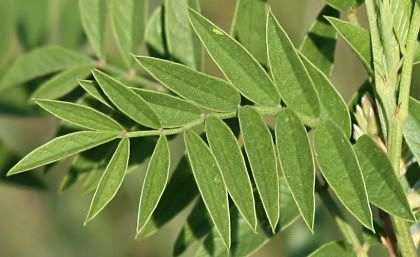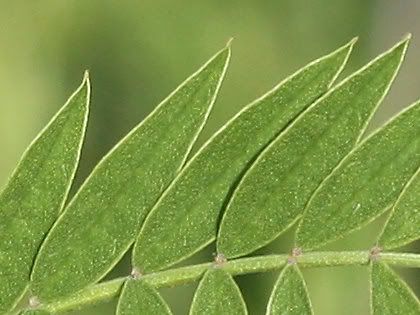 Blossom: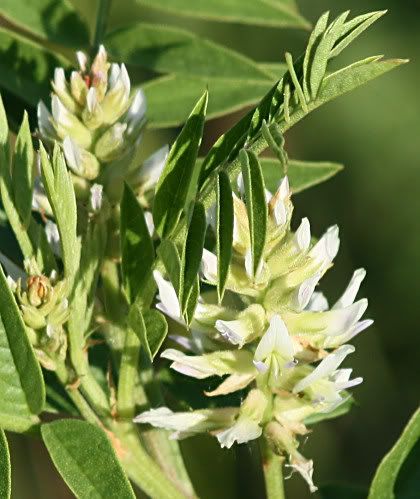 Full Plant:
npwrc
npwrc2
Google Images
ndsu
Common Names: American licorice, Wild licorice
Species: Glycyrrhiza lepidota Pursh
Family: Fabaceae - Bean Family
Seeds are burs.
usda
(Has a few nice illustrations of the plant.)
It looked similar to Canada Milkvetch (Astragalus candensis)?
Licorice seems to have a shorter flower bunch (
racemes
)?
UPDATE 4 Aug 09
I found burs. Saw a bunch of wild licorice roadside and took pics.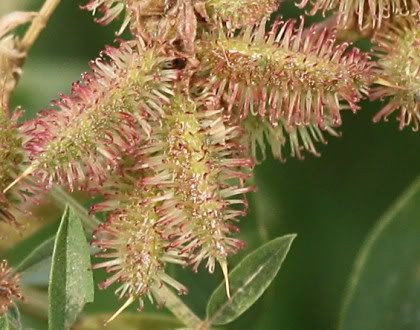 Posted by

Marilyn
at 7/26/2009
No comments:

Here's another vetch.
I'm vexed by the vetches because I can't distinguish between the many different varieties.
But hey, I got beans on this one.
Beans/Legume (with some leaf detail):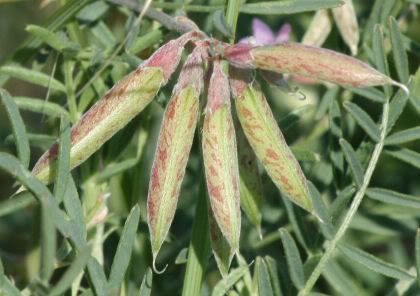 Blossom: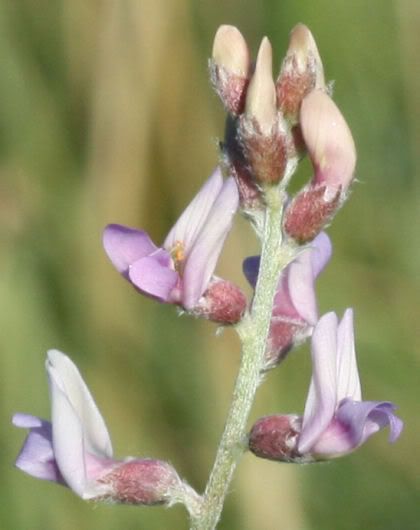 The full plant was a messy mass:
And what is it?
My guess would be
American Vetch (Vicia americana)
Googling
tells me the blossom and legume both look similar, and the ferny leaves of course.
npwrc:
American Vetch
Fabaceae
(Lists the Vetches native to North Dakota)
plants.usda.gov
Kingdom Plantae – Plants
Subkingdom Tracheobionta – Vascular plants
Superdivision Spermatophyta – Seed plants
Division Magnoliophyta – Flowering plants
Class Magnoliopsida – Dicotyledons
Subclass Rosidae
Order Fabales
Family Fabaceae – Pea family
Genus Astragalus L. – milkvetch P
Contains 419 Species and 688 accepted taxa overall
MY NOTE:
Size/proportion: Actual size of beans is about 3/4 inch long. So the beans are very tiny, almost unnoticeable. Similar with the flowers.
Posted by

Marilyn
at 7/26/2009
No comments: