Some "new" songs I've discovered recently that I like.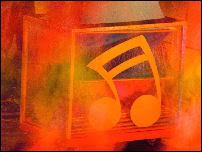 Grief & Sorrow
,
By
Toshio Masuda
Naruto (Japanese manga) Original Sound Track 3, Song Track #14
Road Regrets,
By Dan Mangan
I gave a video search link, but a
regular google search
might give you a better quality version of the song.
And this last song is one I heard on the TV show,
The Cleaner.
Season Finale
"Trick Candles" Episode (Part 5 video if it's still online.)
Waiting For My Real Life To Begin,
By Colin Hay
American Sunshine (2009) Album
Google it.
The voice is familiar because
Colin,
with that wonderful Australian accent, was lead vocalist of Men at Work in the 80's. Remember the song,
Down Under.
Currently at YouTube:
Acoustic version
of Down Under by Colin Hay with a funny little story before the song.
Lyrics:
Waiting For My Real Life To Begin
by Colin Hay
Any minute now, my ship is coming in
I'll keep checking the horizon
I'll stand on the bow, feel the waves come crashing
Come crashing down, down, down, on me
And you say, be still my love
Open up your heart
Let the light shine in
Don't you understand
I already have a plan
I'm waiting for my real life to begin...