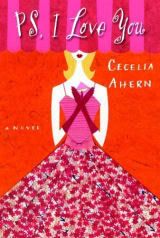 My fav was
P.S. I Love You (2007)
.
What's not to love about this movie?
Great cast, great music, hunky guys.
I love romantic comedies.
Hilary Swank was good in this movie.
Gerard Butler is so good lookin'.
Based on the book by
Celia Ahern
who is from Dublin, Ireland, so it had to have some good old Irish in it, right. She is a producer for the ABC comedy Samantha Who?. Yes, I had already read the book. I can't remember much about it.
Some of the movie cast:
Lisa Kudrow as Denise Hennessey (30 Jul 63, Encino, CA)
Hilary Swank as Holly Kennedy (30 Jul 74, Bellingham, WA)
Gerard Butler as Gerry Kennedy (b. 13 Nov 69, Glasgow, Scotland, UK)
Kathy Bates as Patricia Rawley (b. 28 Jun 48, Memphis, TN)
Jeffrey Dean Morgan as William 'Billy' Gallagher (b. 22 Apr 66, Seattle, WA)
Harry Connick Jr. as Daniel Connelly, (b. 11 Sep 67, New Orleans, LA)
Lots of videos at YouTube on this movie. Here's a search link for the soundtrack.
P.S. I Love You Soundtrack
My Favs:
If I Ever Leave This World Alive, Flogging Molly
Galway Girl (Gerard Butler sings it in the movie. There's also a version by Steve Earle.)
Get Off, Prince (look for the karaoke scene)
Last Train Home, Ryan Star
Love You Till The End, The Pogues
More Time, By Need To Breathe
Same Mistake, James Blunt
A lot of the good songs aren't on the
soundtrack CD.