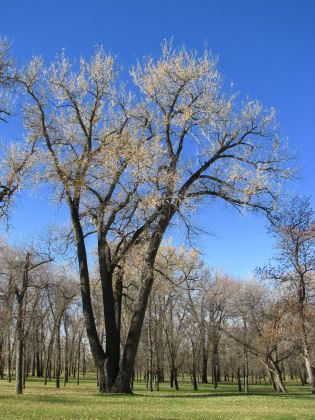 I just love the big old cottonwoods (populus deltoides) down by the river. I wonder how old they are. I googled on it and I don't know how old these cottonwoods are, but I found out that some of the cottonwoods in what's called Smith Grove near Sanger, North Dakota (North of Mandan, ND) date back to before Lewis and Clark Expedition in 1806.
Twelve of the big cottonwoods at Smith Grove are
over 15 feet in circumference,
90 to 100 feet tall and
are estimated to be from 250 to 300 years of age.
(Cottonwoods only live about that long.)
The biggest of these monarchs was
22.8 feet in circumference,
108 feet tall with
an average crown spread of 73.5 feet.
But it blew down in Sep 86. The stump is 35 feet tall.
Info from:
npwrc
Northern Prairie Wildlife Research Center
Natural Areas of North Dakota
Smith Grove Wildlife Management Area
Another reference said explorers Lewis and Clark camped near Smith Grove Wildlife Management Area on 24 Oct 1804 and 17 Aug 1806.
Link:
ndoutdoors
Look for: Giant Loss - Cottonwoods - Aug 2004 - (191Kb PDF)
In yet another reference, it talked about how the cottonwoods helped Lewis and Clark survive their journey. Of interest to me was that people can eat the inner bark of the tree for its nutritive value and sweetness. Also the inner bark contains salicin which was used as an anti-rheumatic drug, a disinfectant, and antiseptic and for eczemas.
See:
ndsu
Lewis and Clark Cottonwood (PDF 3.31MB)
That article said the biggest cottonwood in North Dakota belonged to Tim Spiekermeier of Sheldon in Ransom County (near Fargo area.)
However, the
North Dakota Champion Tree Register
(See 2006 pdf.) says same area, but different people, for the biggest cottonwood in ND. So must be some big trees over there near Sheldon, ND.
Gee, I'll have to go on some field trips!
Well, that's my little research project for the day.
Just never ya know what interesting factoids a person can dig up on the Net.