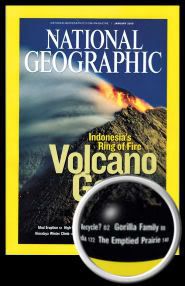 There was an article about North Dakota in National Geographic entitled
The Emptied Prairie.
Also
Article Comments.
Evidently some North Dakotans were offended by it and are protesting, criticizing it. We even have the Gov sending a letter to the Editor in Chief of the magazine.
Unfortunately most if not all of the state online articles are either no longer available for free or will be that way soon. I checked and the one at the
Grand Forks Herald
is still online, but I think that will expire soon. Probably the best bet is to just
google it.
Here are my thoughts after reading the article, and then all the criticism.
1. One said it was a particular story line.
I suppose a HAPPY sounding story about dying towns doesn't really have much appeal. No. It must be windy, cold, and bleak, along with equally windy, cold, and bleak photos. I guess I can understand that. Some of the phrases in the article were a little over the top and made me laugh like "there are constant funerals."
2. Which towns were they and what's the history on them.
Article mentions:
1. Alkabo (Divide County)
2. Amidon (Slope Country)
3. Corinth (Williams County)
4. Epping (Williams County, also photo)
5. Havelock (Hettinger County)
6. Marmarth (Slope County)
In addition, the photos mention:
7. Charbonneau (McKenzie County)
8. Belfield (Stark County)
9. Gascoyne (Bowman County)
10. Grenora (Williams County)
11. Hanks (Williams County)
12. Mott (Hettinger County)
13. Powers Lake (Burke County)
14. Walum (Griggs County)
14 towns
9 never amounted to much in the first place. One person mentioned none of these 9 ever reached more than 225 residents. Some are not incorporated as cities. Havelock never was.
Out of the other 5: Belfield, Grenora, Marmarth, Mott, and Powers Lake; only Marmarth is mentioned in the article. (That's the town with the "constant funerals.") All below 900 population (2000 Census).
ND Population Data
Look for: Total Population for North Dakota Cities: 1920 to 2000 (PDF or Excel file)
OR
Download PDF file
Here's where they are on a map. Yeah, not the most readable but the best I could do. I wanted to know if the towns can actually be found on a regular travel map. Walum and Havelock are not on there. But I've added them in red text. You'll notice the towns are mostly clumped together in two areas of the state.
First a North Dakota State Map View (google):
Then zoom in travel map views:
Northwestern North Dakota (7 towns)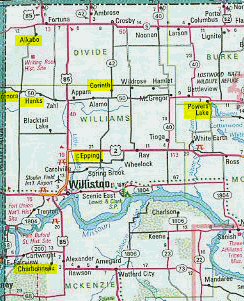 Southwestern North Dakota (6 towns)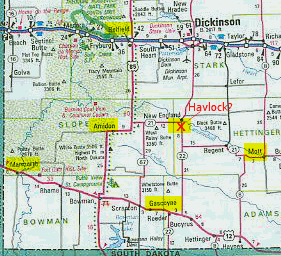 Eastern North Dakota (1 town)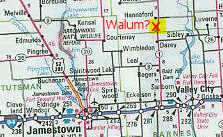 3. That was then. What about today?
The NatGeo article does mention some of North Dakota's past was that in the early 1900's the railroad lured in settlers but then there was the Depression, the dust storms of the 30's and these settlements failed or declined. Yeah, that's part of the state's history. Is it an accurate portrayal of what's going on today?
Well, I think North Dakota is changing. Some pointed out you don't need as many people farming the same land as you did years ago. That's an advancement, not a decline. Perhaps too many younger people are moving out of the state. I'd have to check the census data.
All-in-all the article really didn't upset me. I do think it was a little over the top, but it was a dying town story line. I liked some of the photography, even though that looked a little staged too.
I'd like to visit these places for myself with my camera and see what they are like. Thus all those maps (above).
Old cemeteries, abandoned places, that's part of the state's charm.
I like that it's sparsely populated.
I love wide open spaces.
I like the winter season and would miss it if I lived somewhere without one.
Too cold and windy? Sometimes. So what?
Other Links:
ghosttowns.com
ghostsofnorthdakota.com