Flooding is dominating the North Dakota news this past week.
Lots of snow this winter combined with a quick thaw and river ice jams are the main causes.
The general news media has focused on Fargo and the Red River, but the flooding is statewide.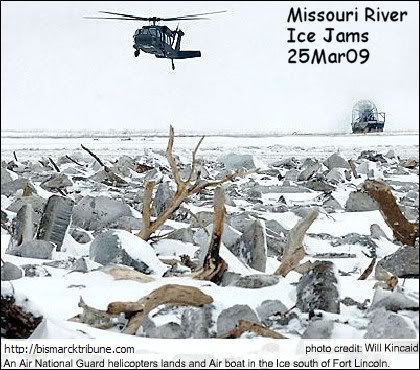 Salt (to soften) and explosives were used on the Missouri River ice jams (Bismarck).
Very unusual situation. I don't remember that ever happening before.
The Heart and Knife rivers flow into the Missouri bringing large chunks of ice.
The TV news conference said the ice was about 3 feet thick and some chunks about the size of a vehicle.
I heard 100 mile ice jam, but one specific area South of Bismarck caused flooding in town. And another ice jam North Bismarck is an area of concern.
Explosives seemed to get things moving again and the Missouri has gone down.
Some handy things I've found online to track the statewide flooding:
Layer the
Map of North Dakota Cities
on top of the
North Dakota Rivers Map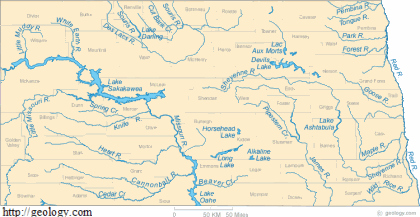 Set Layer Blend to Multiply and viola can see the towns, counties, rivers.
Handy.
I used Paint Shop Pro 9 to layer, but can use any software capable of doing layers.
I don't see the city of Wahpeton on the map, though. It is SE corner along the Red River.
The Red River is unusual because it flows up instead of down.
So crest at Wahpeton, then Fargo, then up to Grand Forks.
Grand Forks built a new dike system after the flood of 1997 so I don't think they are worried up there.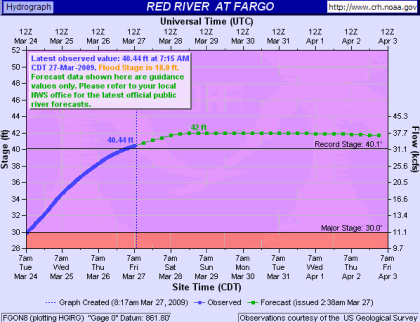 Hydrographs at crh.noaa.gov tells you the cresting status on the various rivers in North Dakota, track by city.
The Red is still cresting and has already surpassed the record flood stage. Looks like most other rivers have already crested.
The website is a little difficult to navigate and find what you want. Look for the hydrographs. Here's a few main links:
Central ND
Eastern ND
Google ND Newspapers
for news.
Just some of the towns mentioned in the news with flooding problems (generally from West to East):
Hazen/Beulah - Knife River
Mandan - Heart River
Bismarck - Missouri River
Linton - Beaver Creek
Fargo - Red River (Wahpeton, Grand Forks are along the Red also.)
There are more.
Some of the smaller towns get overlooked.
You probably won't hear about the farmers who had to be lifted out by helicopter cuz the roads washed out.
If you like Twitter,
#ndfloods
tag will probably take you to everything that's on Twitter.
See also
North Dakota Road Conditions