So I was congratulating myself for having worked thru 14 Blender tutorials and then realized that was only Unit 1 of 12 Units currently available at that
website.
AND
I still needed to make the yellow submarine animation from Unit 1 yet.
This tutorial site is HUGE. I had no idea. That is a whole lot of work someone did.
I decided to google my Blender Instructor...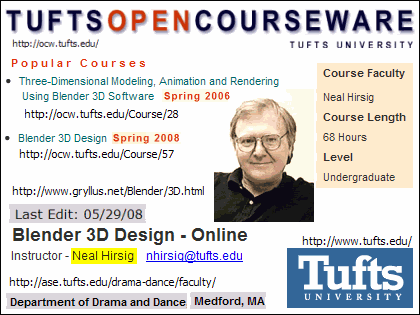 Let's see..
First Stop
He got his M.F.A from U of Montana in 1979.
He's a Senior Lecturer at Tufts University.
He's 56 years old.
He says:
"I have been teaching courses in 3D Design at Tufts University for many years. Two years ago I switched from 3D Studio Max to Blender as the primary software employed by my students. Since then, I have developed a rather comprehensive set of online learning materials which focus on understanding the basic Blender functionality and strategies for applying Blender modelling to a creative design challenge. The course material contains weekly learning units consisting of over a hundred video tutorials, some 25 PDF tutorials, course projects and examples of prior student work...."
Etc, Links to:
Tufts University Open Course Ware site
Course 28
Three-Dimensional Modeling, Animation and Rendering using Blender 3D Software:
Wow, more tuts and stuff.
There's a NEWER version
Course 57
Yet MORE tuts and stuff.
Tufts University vs Tufts Open Course Ware University?
Tufts
has
three campuses
in Massachusetts, (1) Boston, (2) Medford/Somerville and (3) Grafton.
Neal Hirsig
is listed as Senior Lecturer in
Drama and Dance Dept.
at Medford, MA.
What does he look like...
Google Images
Only one teensy pic, no date.
So...I'm a little confused about all those tutorials.
What is the same, what is different.
I guess I'll continue to plow thru the ones I was working on for now.