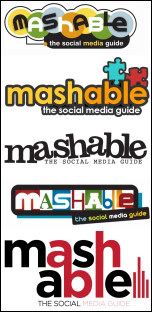 Mashable Logo Design Contest
(More contests at that website, also.)
These are fun to look at.
They are really pouring in fast.
Interesting to see what people come up with.
(Some of my favs to the right.)
Spell the word wrong?
Don't follow guidelines?
Play on the Mash TV show.
Play on the McDonald's big M arch.
More Info at
Mashable.
Contest open March 10th until March 24th.
Designs must include the words "Mashable" and "The Social Media Guide."