I found this at Yahoo news.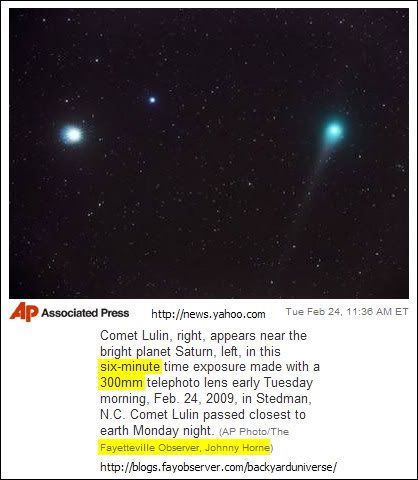 What struck me was the 300mm lens to take this picture of the comet.
I don't know about the six minute exposure time?
I found the
photographer's blog
and he has more pics with details, which is interesting. Pics have the EXIF.
I'll have to do some night sky photography this summer with my XSi camera and 300mm lens just to see what I can get.
I'm pretty lazy about setting up the tripod. So much work. And I think I need a sturdier tripod for my XSi setup. The one I have works fine with my S3.
Direct links pertaining to Comet Lulin:
Comet Lulin, Saturn and a satellite tonight…
Says:
"the comet was 38 million miles away."
"300mm lens brings objects about as close as a pair of binoculars."
Comet Lulin closes in…
Comet Lulin in the sky and online
Comet Lulin last night…
Says: "Nikon D300 digital camera and a 300mm telephoto lens for the 3 minute exposure."