I'm still studying Blender 3D software.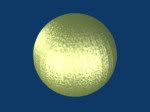 Worked thru Unit 4 - Coloring, Materials, Camera, Animation.
GOOD. Lots of good information here.
There's the Color Picker for choosing specific colors, which I hadn't realized was there.
There is how to lock the camera on an object which was an important tip to learn.
Introduced to the Ipo Curve Editor Window used for Animation.
The Materials pdf and sample blend file is very detailed on how to add effects like gold, silver.
NOTE:
Main Index Page
of Hirsig site has extra tutorials not found when following the Learning Units Links.
One that is relevant to Unit 4 Animation is entitled: "Creating An Animated GIF"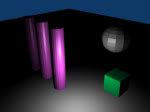 Just finished Unit 5 videos.
Lots of good info on lighting in this section.
I set up 4 views while working thru Unit 5.
There are NEW added options in my newer version Blender 2.48.1.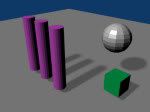 He always activated Add, Lamp in Top View so the lamp pointed down on the scene.
Then switched to Side View and moved it.
Default Lamp Scene has Shadow On. Shadow is Off on new lamps added.
You need Camera View to see what you will get when you render.
Then you need to render to see the light effects.
The Spot Lamp was the most complicated and acted differently than his.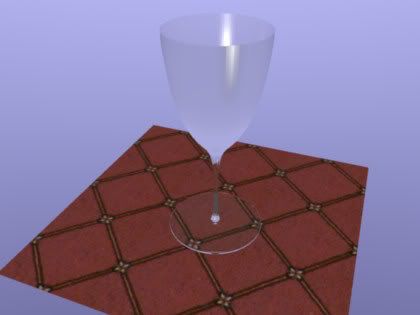 The wine glass pdf tut using the Bezier Curve was difficult to follow. He refers to a "MyBlender" file which is found in Unit 3.
His Front View is my Top View. I slogged thru in Top View and then right before creating the plane I rotated the glass.
I couldn't figure out what he was doing with the Bezier Curve from the pics provided. I did a screenshot of his glass profile half before spin and imported that into Blender and used it as a guide (View, Background). I eventually found out that his stem was different (more rounded going up).