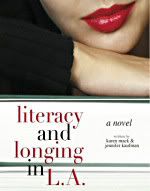 I wasn't going to blog about this book because at first, I didn't like it all that much. The first part was pretty heavy into the protagonist's book obsession and I didn't want to climb in there with her. It did get better, however, and there were a few things I jotted down from the book.
The funniest part of the book is the chapter where Dora "discovers" the romance genre because a friend gives her a box full as a gift with a notes that says: "Dear Dora, Merry Christmas. I know you're going to love these books! Just try one! You'll see. Love Darlene."
Amanda Quick, Susan Elizabeth Phillips, Elizabeth Lowell, Judith McNaught, Kathleen Woodiwiss, Jude Deveraux.
"Wow! This shit is good," Dora says. lol
She describes some of the stories: (pg 228-9)
"Angry young man, passionate artist, virginal heroin, unaware of her intense, sensual nature until miraculously awakened by the man of her dreams."
"Julia is beside herself with rage. She's fatally attracted to a gorgeous, infuriating man who turn outs to be her betrothed. A dark period when things may not workout but then the lovers see the light, climb the mountains of despair, and fling themselves into each other's arms...all for love."
"I want more," She says.
I loved it.
A few more passages that I jotted down:
(Pg 71):
"Certain passages keep resonating in my head long after I've closed the book, and I often can't wait to get back to the story, as if it were a secret lover."
Context is her musing on a fantasy book club, but I liked that description of a really GOOD book.
AND
(Pg 73):
"Then there are the readers who just want a good old-fashioned story and make no bones about it. They skip over long descriptive passages, skim through digressions, and zero in on who, what, and where to the nth degree. A subcategory of this is people who read books for sex, violence, or any other particular proclivity, and speed read passages that don't interest them."
Uhm, that would be me. Sort of. I definitely skip/skim and/or abandon a book when I don't like what I'm reading.
My hint/tip: On retrospect, I should have paid more attention to Palmer. He's more important than I had thought.
And, in all that "literacy and longing" did any literary reference stand out?
Dorothy Parker:
"Tell him I've been too fucking busy—or vice versa." (pg 149)
NOTE: See
first post
on Kaufman and Mack books.