Here's a short video clip I made in PowerDirector8:
480x270
Details below:
I was reading the
PowerDirector Forum
and found out you can add an image to the PIP Track on the Timeline.
I hadn't thought of that.
So far, I've learned three areas to add images on the Timeline at bottom left:
1. The Master Track (Storyboard)
2. The PIP Track
3. The Text Track (Editing mode)
So here's an interesting combo I came up with.
In the Media Room
Instead of "All Content" choose "Color Boards"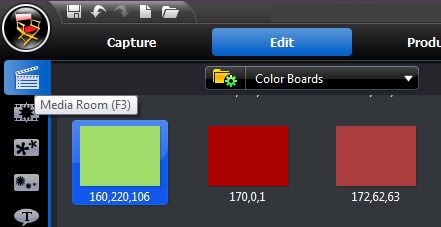 I chose three different Color Boards:
Green, Rust, Blue
Add by dragging them down to Timeline Master Track area.
From the Transition Room, add Fade Transition in-between Color Boards.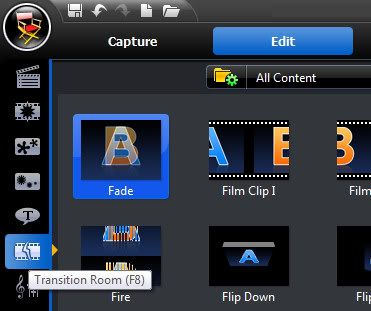 All default values.
Then add a Text Track,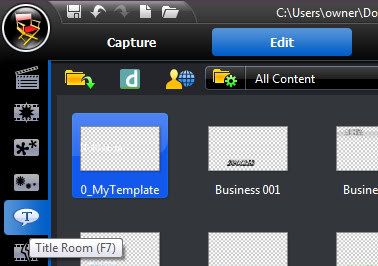 double click to edit, add image, add text, click on the text and animate it with starting and ending animation effects.
I used
Start: Double Vision Horizontal
End: Double Vision Vertical
You can't add animation to the image in the Text Track editing area, evidently.
But this combination of effects does fade that image because the Color Boards have the Fade Transition.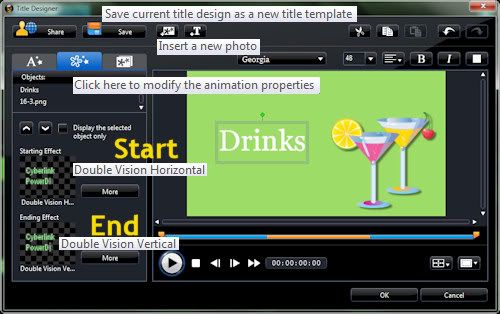 Note: I didn't like the ready-made text tracks, so I used Default and edited it and then saved it as a Template. (Name it something that will send it to the beginning of the template list to make it easier to find, i.e. 0_MyTemplate.) The ready-made ones did demonstrate some of the things that can be done in that area.
Here's what the Timeline area looks like: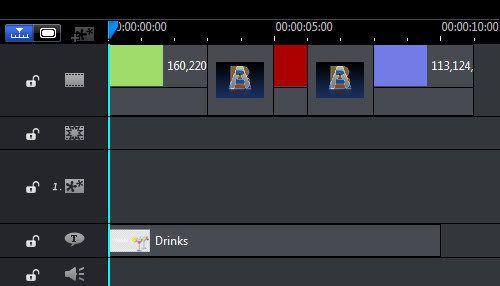 I found the drinks image here:
GoTo:
C:\Program Files (x86)\CyberLink\PowerDirector
Search for
*.png (these have transparent background)
also try:
*.jpg