I was studying the preformatted text boxes in Word 2010.
Boy, it took me a while to figure out the formatting.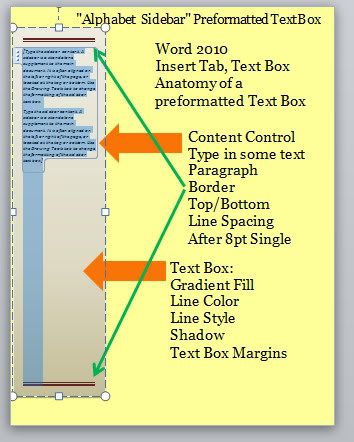 The text box called "Alphabet Sidebar" was a good one to study because it has lots of different formatting settings.
Not only is the box formatted, but it also has *paragraph* formatting, including top and bottom borders and line spacing.
The paragraph border area is also where you can add horizontal divider lines in your document.
There are tons of things a person can do with shapes. Studying one gave me lots of ideas.
Paragraph formatting area:
Relevant Links from the "dummies" page:
Lines and Boxes
How to Add Lines and Boxes to a Word 2010 Document
Page Border
How to Put a Border around a Page of a Word 2010 Document
More Word 2010 Stuff
Here's a handy dandy pdf file I found Googling. It's for "Advanced" students. I feel better now. HA
Handout.pdf