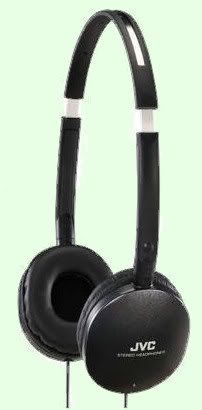 I bought these headphones mainly because that's all I could find with that color and style. I usually buy the really cheapo ones with the foam ear pads for exercise. It's the wire that wears out on my headphones, so why pay more.
But these have better quality wire and have noise canceling padded ear pads. When I use them, I have to turn the sound volume way down, because they are really loud.
Wow. What a difference in sound quality. Way better. And they aren't that expensive.
They did hurt my ears at first after I had them on for a while, but that stopped being a problem the more I used them.
I was hesitant to use them for exercise at first because they do muffle the environment sounds, but I got used to it.
They are great for at home use plugged in to my laptop which doesn't have very good speakers.
Amazon Link
JVC HAS150BX Light weight Flat Folding Headphone (Black)
JVC Flats Link
(They come in different colors: black, silver, red, purple, blue and pink.)
WalMart Has Them