Keyboard Shortcuts
Windows 7 Keyboard Shortcuts
Alt/P for Preview Pane in Windows Explorer (Libraries)
There's also an icon at top right for Preview Pane.
Nice!
Works for images AND documents.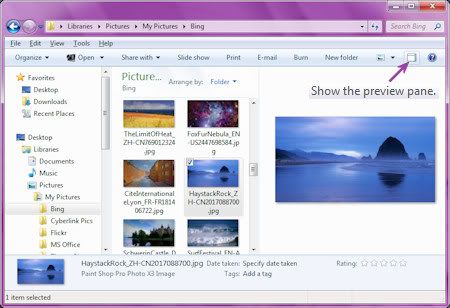 Tag Editing
Even though the tag editing in Windows Media Player 12 is more restrictive than it used to be and you can't add lyrics without a
plugin
, I did discover I can edit the Columns info in Windows Explorer (Libraries).
Yay.
Is that why there are now like a million different column headings/titles to choose from the drop down or what? ;)
Anyway, you can view, edit, copy, paste, etc. the info in these columns.
And you can edit a bunch at the same time, do batch labeling. I selected a bunch, then Right Click, Properties, Details Tab, edited a column, and that info was added to all the files I had selected.
I noticed Duration column is usually blank, but now Length column is used for that info instead.
NOTE: See my blog post on adding lyrics with mp3tag
here
.
Sticky Notes
Sticky Notes default font is
Segoe Print
then
MS Sans Serif
Paste preformatted text and it will retain that formatting.
Found
here
.
Also:
Keyboard Shortcuts
for Sticky Notes.
Themes
So why is it that when I change Aero Theme colors to a pretty purple or pretty green all it changes are the main windows? I'm still mostly stuck with that default blue scheme. In order to change all the windows, I have to use the ugly Classic Themes. I searched the Net for a work around but didn't find anything. I dislike all those Theme sound dings for this or that. Have to turn them all off.
Right Click Desktop, Personalize, Window Color