I was in Bismarck and some of the trees are so gorgeous I about went off the road gawking at them!
Crazy woman. :)
Some of the big trees are fully changed in color yet have all their leaves. Wow!
Here's a tele shot which captures the autumn splendor feeling I had.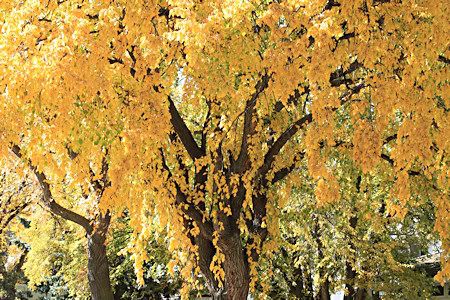 Climbed the hill at
Hillside Park
for a city view.
(Can see the Capitol Bldg. from there.)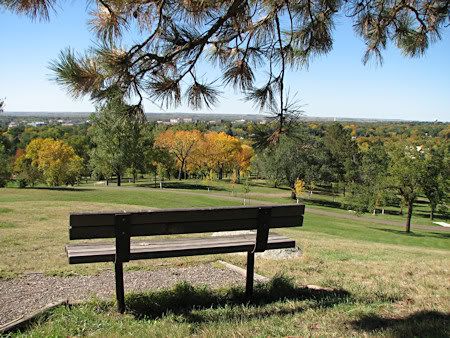 Virtual Tour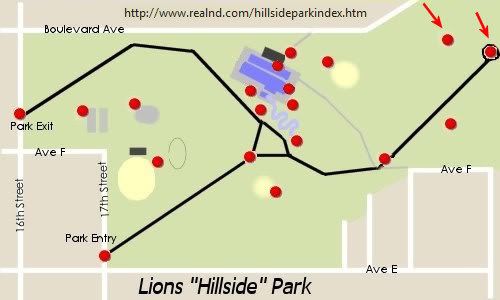 I'm at the dots furthest to the right, click on those, and it gives you panning views with skyscraper Capitol Bldg. (Made me a little woozy watching it). The park was redone summer 2009 and the only vehicle entrance now is off Boulevard Ave. Used to be able to drive up to that hillside view. Now you have to hike up there.
Still plenty green yet this year.
More color to come.
And further down the hill, tiny crab apples at my feet. (I think that's what they were.)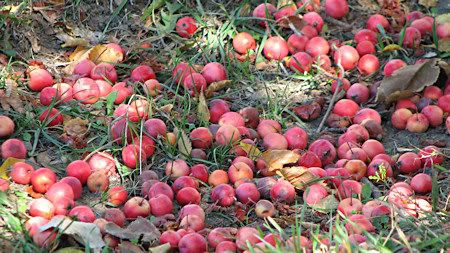 The moon was visible during part of the day, snapped that too.
Ah yes, a glorious autumn day, indeed.
How about some tunes with that:
Neil Young - Harvest Moon (1993)
What's up with the moon this time of year?
"Not since Sept. 23, 1991
has a full moon occurred on the same night as the fall equinox, and it won't happen again until 2029."
"...the Harvest Moon typically occurs a few days or weeks before or after the fall equinox. This year, though, the full moon occurs just six hours after the equinox, making it what Phillips called a
Super Harvest Moon
."
"The Harvest Moon gets its name from agriculture...farmers depended on bright moonlight to extend the workday beyond sunset."
(Quoting astronomer Tony Phillips.)
Why can I sometimes see the moon during daylight hours?
"The answer to your question has two parts: why is the moon VISIBLE during the day, and why is it even ABOVE THE HORIZON during daylight hours. ..."
"...there is one other object which is just BARELY bright enough to be visible in the daytime, besides the moon and sun: that's the planet Venus - the third brightest natural light source in the sky. ..."
Why does the Moon sometimes come out during the day?
"...think of the Sun as a large light bulb, and the moon as a large mirror..."