I was trying to find a good online article on OneNote 2010 vs Word 2010.
Did not find it.
I've been working in both and trying to figure out which one I'd prefer using for research.
Here are my notes on the topic. Not exhaustive, just some of the things I found.
Look for the OneNote only features highlighted in yellow.
Basically, I'd say Word has far more features than OneNote.
OneNote has the
Notebook like organization.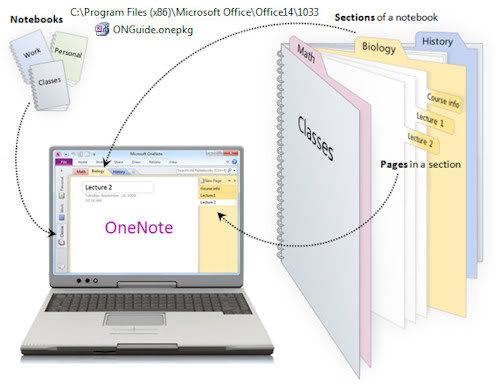 Notebooks are along the left side. Sections are Tabs at the top. Pages and subpages are along the right side. Everything together and linked, tagged, searchable, as desired.
Has a nice
ruled lines notebook
look if desired.
Word could have ruled lines with a ruled lined background image, but the lines won't line up with the text line spacing. (Page Layout Tab Menu, Page Color, Fill Effects, Picture Tab) I think some templates use Tables as a work around, but navigation is then different.
OneNote has very basic Tables, Shapes only. (Create tables by typing text and pressing Tab.)
Word has full featured Tables, Shapes.
Word has Columns, Find and Replace, Text boxes (nice preformatted ones too), WordArt, Drop Cap, SmartArt, Charts, ClipArt, more control over fonts (kerning) and line spacing.
Can Format/Edit Images and Clip Art in Word, can't do that in OneNote.
Draw features in OneNote are not much fun with a mouse.
(Check out Page Layout, Themes vs Home, Styles in Word?)
Word has ways to link stuff too, i.e. Hyperlink, Bookmark, Cross-reference (Insert Menu). I haven't worked with those enough to compare with OneNote linking abilities.
Word has a Navigation Pane (View Menu), but I haven't worked with that either, so I don't know how it compares to OneNote navigation.
Word has a Linked Notes feature (Review Menu), which works with OneNote.
Both have a screenshot feature.
OneNote has
OCR on Images,
so text on images is searchable.
Right Click on the image to get options:
Copy Text from Picture, Make Text In Image Searchable.
I don't think Word can do that.
If you copy and paste something from the Net, OneNote automatically
includes the url link,
which is handy, but not a deal breaker, just copy and paste the url too if you are using Word.
OneNote:
Calculator:
type Space after = in expressions.
Word can't do that.
In OneNote you can type anywhere on the page with a click of the mouse. And everything goes in invisible boxes that can be moved around. I think this would be easy enough to do in Word with Text Boxes and you'd get formatting features for those boxes.
OneNote likes to do things for you. There is no Save. OneNote does that for you. You can't password protect an entire Notebook, only a Section of it (Right Click Section or Tab at top). When you open OneNote, it takes you where you were the last time you exited and ALL your Notebooks are listed at the left side column. (Right click on a Notebook and Close it.) You can't delete a Notebook from within OneNote. You have to delete Notebooks from within Windows Explorer (Look in MyDocuments).
I looked for options to restrict/stop some of OneNotes automatic features.
Under the Share Menu, Page Versions, Disable History and Delete all Versions, then empty Recycle Bin too. Then look at File, Options, Save & Backup settings, maybe Optimize Now.
File, Options, Display, uncheck Place OneNote in Taskbar.
Music/Audio/Video:
Word -
Insert, Object, Create From File Tab, check Link or Icon
Also wav files under Insert, ClipArt
(Get ugly diagonal lines across icon once it has been played? Close and reopen eliminates the diagonal lines.)
Right Click, Format Object, Layout Tab, Wrap and then icon movable, similar to Text Boxes.
OneNote -
Can
Record Audio/Video.
Also Insert music file as Attachment or Link.
See File, Options, Audio & Video Settings - Audio Device set to Stereo Mix will record what is playing on Laptop (AudacityBeta is similar).
Can drag in audios or videos onto your pages? Didn't try that.
OneNote Page Templates are on the right column New Page area. There are no Notebook Templates, as far as I know (Like a yearly diary, for example, easy enough to create, though).
UPDATE: Online Notebook Templates
here.
OneNote can be kinda quirky and unpredictable about adding extra lines/space.
Insert, Insert Space and mouse drag up to remove, mouse drag down to add.
In both Word and OneNote, you can Insert, Image and paste a url instead of a filename.
Word Screenshots showing Artistic Effect and Text Box: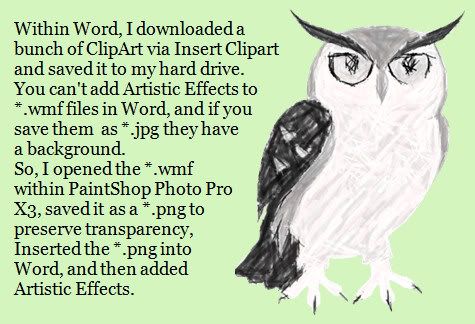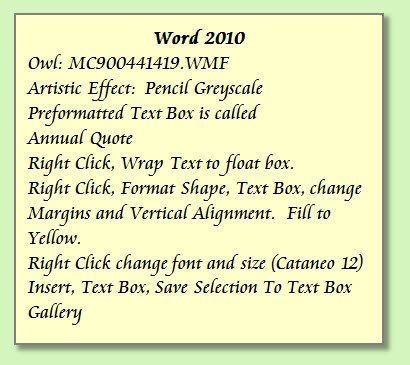 (MC900441419.WMF, Tag: Owl)
And just because I like it and it makes me laugh, here is another Clipart I downloaded: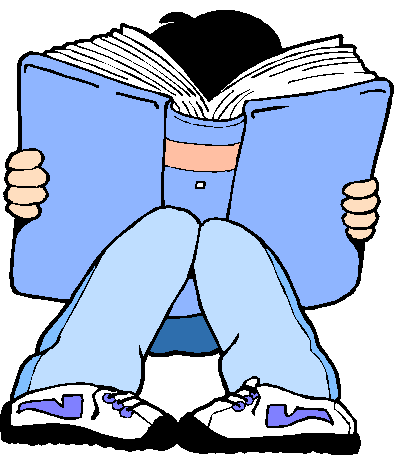 (MC900134551.WMF, Tag: Books)
It makes me laugh because, 1) the book is so BIG, 2) toes are pointed toward each other, 3) the reader looks so intense.
LINKS:
Microsoft Images Online
MS Office 2010 What's New