So that had to be Venus in the western sky about 8:30 p.m. CT tonight.
Yup.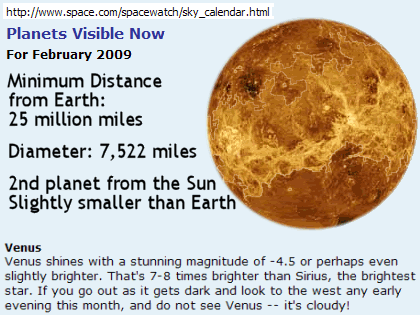 So bright, hard to ignore.
The stars were really bright (no moon).
I wish I had an observation deck with telescope and camera ready for moments like this.
It's about 6 degrees above zero outside.
Feb Night Sky
Venus
Venus Image
How about some tunes to go with that...
Venus by Shocking Blue
Google it
#1 Billboard Hot 100 Feb70
Bananarama
covered the song in 1986.
Songfacts
"A goddess on a mountain top
Burning like a silver flame
A summit of beauty and love
And Venus was her name..."