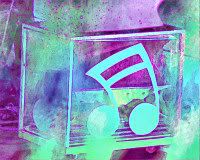 I don't know if this is a deep dark secret or what, but here is the direct link to
emusic free daily download
. Emusic website wants you to install a toolbar to get these freebies, but I found the direct link when googling.
And while I was there...
Listened to:
The Rural Alberta Advantage
.
Song: Barnes' Yard
YouTube:
Best Quality
Live
at Beachland Tavern in Cleveland.
Talks about the song
.
wiki
Canadian indie rock band formed in 2005.
Based in Toronto, Ontario, the band consists of Nils Edenloff (lead vocal & guitar), Amy Cole (vocal & keyboard) and Paul Banwatt (drums)