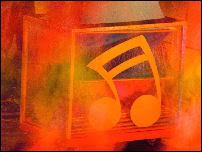 Okay, I'll try some of this stuff.
Angels And Airwaves:
The Adventure Final
Everything's Magic
Breathe
Wiki:
"Angels & Airwaves is an alternative rock band led by Blink-182 guitarist/vocalist Tom DeLonge."
What do I have of Blink 182, not much - I Miss You, is all.
And how about:
Parachute
"Parachute is a pop rock band from Charlottesville, Virginia. The members graduated from college in May 2008 and since then have been touring and promoting their debut album Losing Sleep full-time."
All That I Am
(Reminds me of Goo Goo Dolls.)
She Is Love
(Acoustic Version)
Words Meet Heartbeats
Susan Boyle:
That's a last.fm link.
Wild Horses is my fav and last.fm seemed to have a good quality video there.
A lot of the YouTube videos of Susan are poor quality.
She has a very clear, strong, and beautiful voice on her album.
Mutemath - Valium
Odd title? But hey, I like the music.
Cathy Dennis - Why
Makes me want to dance.
City Girl - Stars Crashing Cars
(last.fm link.)
You Set Me Free - Michelle Branch
I'll See Ya Soon - Coldplay
Closer To You - The Wallflowers
Shining Light - Annie Lennox
I Can't Dance - Phil Collins
Most of these are direct links to YouTube videos--eek.
Probably be dead links, eventually.
If that's the case, you know what to do, right.