How to:
1. Draw a tiny circle/ellipse and keep it selected
2. Path, Object to Path
3. Effects, Modify Path, Add Nodes 0.1
4. Effects, Modify Path, Jitter 5 (Shift nodes & Use normal distribution checked, Shift node handles unchecked)
5. Draw a curvy line (I used the Freehand Tool)
6. Select both objects (circle, line)
7. Effects, Generate from Path, Pattern along Path
Single, stretched
Snake
Space between copies 4
Normal offset 4
Tangential offset 0
Pattern is vertical unchecked
duplicate the pattern before deformation checked
Gallery of effect:
Link
png
See previous post on
Pattern Along Path
UPDATE:
See
Inkscape Spiral
posted 2011.
UPDATE2:
Apr 2011 for Inkscape 0.48 Per Comments:
100% zoom.
Curvy Pencil line is about 200 px long.
Circle is 20x20 px in size. (Then Object to Path.)
Add Nodes: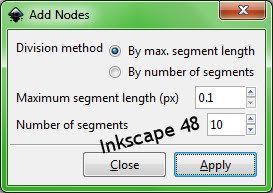 Select circle with Select/Transform Tool and at the bottom Statusbar it tells you the number of nodes. I got about 634 nodes and that did the job. So don't worry about getting 1024 nodes. You want enough nodes to get the lacey/jagged/ragged edges on the circle when you add Jitter. Plus you'll be stretching that pattern onto a path.
Jitter:
Zoom in to about 500% to see what the edges of the circle look like. Should be jagged.
Note: Circle must be Top Most Object (Object, Raise to Top) when you select both circle and line and apply Pattern Along Path.
Here's a screenshot of Pattern Along Path setting that works (slightly different than above):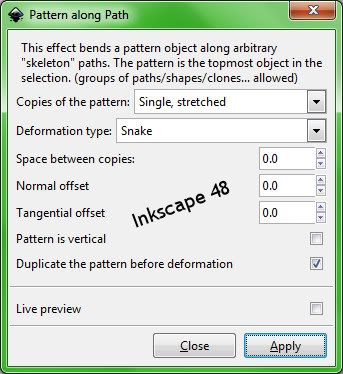 Refer to my update link above for further relevant notes applicable to Inkscape v 0.48.