Previously:
Minot Souris Flood
Bismarck Missouri Flood
So Minot Souris river area went down fairly quickly: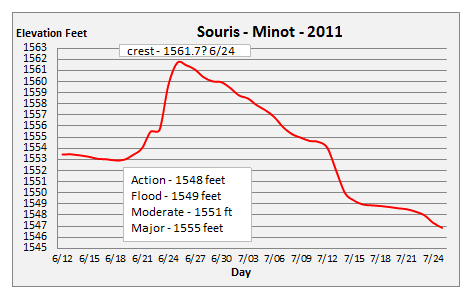 But for the Bismarck area, it was a l-o-n-g flooded summer:
The stench, the bugs, blocked roads, closed off areas, people canoeing to their flooded houses.
I wonder what is going to happen to all those old cottonwoods that were standing in water for months.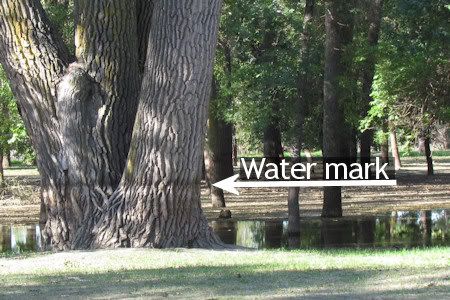 Some of them must be over a 100 years old.
They look stressed.
I feel so sad for those trees.
The leaves are a dull gray green color. It looks similar to when it freezes before the trees have shed their leaves. The leaves turn an ugly color and fall off.
Later I found out that the area cottonwoods (Populus deltoides) in general have a fungus (septoria leaf spot, rust).
Note: Garrison Dam Spillway was closed 17 Aug 11. Releases were 85,000 cfs at that time.
Normal for this time of year (Sep) is 21,300 cfs and river elevation just under 6 feet.
Charts are mine.
Data is here:
Bismarck Missouri
Minot Souris