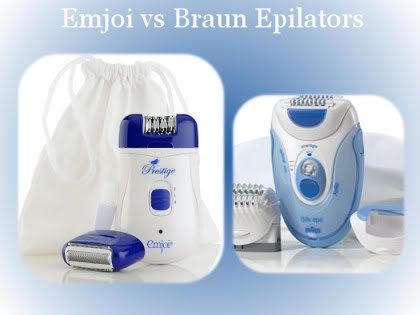 Emjoi
Prestige (hsn cuz the only place with an accurate picture.)
vs
Braun
Silk Epil Xelle
I bought the Emjoi first and then the Braun hoping for a better one.
Both were purchased at Target.
Notes:
Rechargables don't have as much power when not plugged in (Emjoi), so save your money there.
Can scrape your skin (Braun).
Noisy.
No hair catcher.
Takes forever, especially with the Emjoi, cuz I had to go over and over the same areas before it would get all the hairs.
Hurts.
Not a smooth shave like you get with a razor.
Hair grows back thinner softer.
Braun removes more hair than the Emjoi and is a better head design.
I find I don't use mine because it's just not convenient.