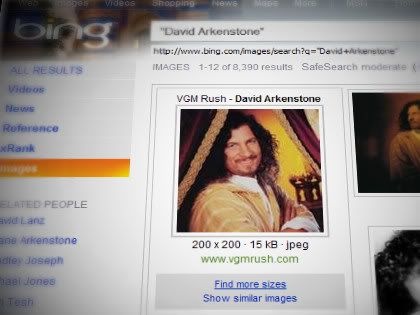 I've been trying out the Bing search engine and I like it more and more as I use it. I get better results than with Google sometimes. With images, I like the way Bing right away offers you a list of more sizes or similar images on mouse over.
Bing seems more dynamic and offers to take me interesting places I didn't know about. Makes searching more fun.
I downloaded and installed the Silverlight flash plugin so I could try the Visual Search.
That's nice too.
Bing Videos of
David Arkenstone
Much nicer display format than Google.
If you hold the mouse cursor over videos, they play preview bites.
Last.fm has tons of
tracks
for Arkenstone.
I particularly like
Land of the Tiger
And
The Journey Begins: Kyla's Ride
And Bing?
techcrunch
Bing Review dated May 09