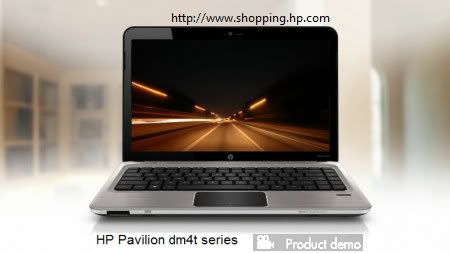 I bought an HP Pavilion dm4-1065dx laptop and went wireless home network.
Yay!
This is my first laptop, so lots to learn.
I bought the new MS Office 2010 which has the ribbon interface. Yikes.
I LOVE the portability of this little laptop and think it's the perfect size for me.
The function keys are different. It took me the longest time to figure out how to get f12! That's the wireless connection. If I want the regular f12 I have to use the fn key + f12. The fn key is at lower left. HP User Guide says function key behavior can be changed using setup utility (BIOS), but I haven't looked at that.
I thought
computershopper
had a good review of the HP Pavilion dm4t.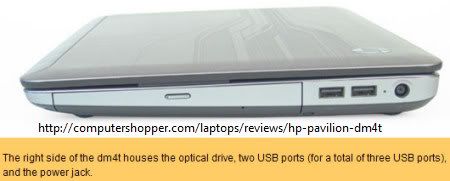 I can't plug anything in to that third USB port on the left side so it is different than a regular USB port. (UPDATE: The port DOES work as a USB port, it is just a very tight fit.)
The card reader and speakers are on the front of laptop.
HP pics are more color accurate than computershopper review pics.
To me, the laptop is kind of a taupe beige with slight pink overtones. The color can look more gold than pink in my home lighting. I think it's unique and pretty.
More review discussion at
notebookreview forum
Laptop Forums and Notebook Computer Discussion > Notebook Manufacturers > HP, Compaq and Voodoo PC > HP Pavilion Notebooks
HP dm4t Review
05-29-2010
Google it
HP
HP Pavilion dm4t series
UPC: 8 84962 73370 7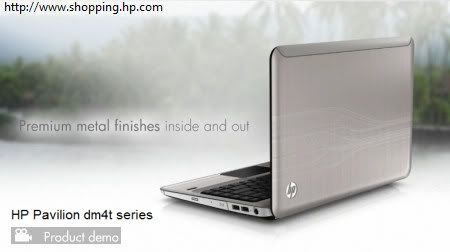 My Specs.:
HP - Pavilion Laptop
Intel® Core™ i5 Processor
14" Display
4GB Memory
500GB Hard Drive
Notes:
I got the low end Intel graphics so not a gaming machine, but better graphics are available, see the HP site.
Other possible cons are no backlit keyboard, no blue-ray disc drive. And the drive latch is tough to open. I have to press hard with my fingernail to get the thing open. I've even resorted to using Windows Explorer Eject.
I went from a 1024x768 17 inch screen to a 1366x768 14 inch screen and the text is significantly smaller. I can't imagine using the even higher resolution screens you can sometimes get with the new laptops. The text would even be smaller yet on those.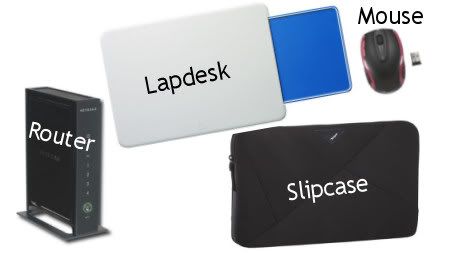 Other stuff I bought:
Rocketfish Nano Wireless Optical Mouse
Logitech N315 Lapdesk
Targus A7 Slipcase Laptop Case
NetGear Wireless-N Router
The only problem I had with the router installation is the website menu had TWO "wireless settings" areas and I was in the wrong place for a while struggling to figure it out. I also had to tweak my ISP settings, so good to have all of that info before setting up the router.
No need to use the CD disc included in the package, can just go online.
On my HP laptop, after the Cntrl Panel setup stuff, I had to press the f12 key to open a network, and the little light on the key turns bluish white when the wireless connection is on. I took screenshots of everything as I went along, so I could remember what I did.
Something I hadn't known about Windows 7 is that if you use an old 32 bit software program *everything* changes to a Windows 7 basic theme, which is pretty ugly. It looks like an old Windows 98 environment. I knew a 32 bit program would revert back to an older theme interface, but I hadn't realized everything changed to that mode. I use Paint Shop Pro 9 (PSP9) all the time which means I'm always working in that old interface mode, yuk. So I'm going to try the newer version of Paint Shop Pro.