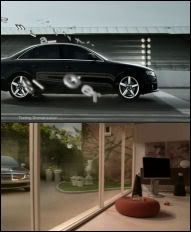 I happened upon this at
MeFi.
And then somehow landed at the
Audi site
where you can watch and then download the movies and the music. (Also at
truthinengineering.com.
)
Nice!
If all commercials were made this good, I could actually enjoy them, instead of getting irritated and switching the channel.
More discussion at
adtunes forum.
VLC media player
will play the downloaded movies (filetype *.m4v).
The Audi commercials are at YouTube also, but why would you go there when you can view and download the full screen high quality real deal at the Audi website.