These muskrats are fun to observe (
previously
). They were out at 2pm this day, so my theory that they are only out and about early in the morning was wrong.
The male was feeling amorous again and his mate looked less than enthused: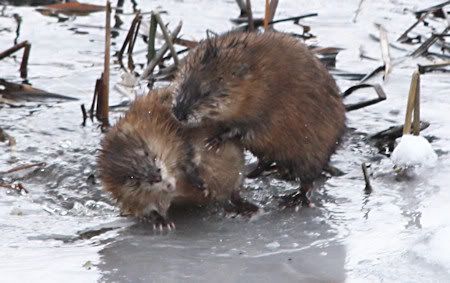 Scuffle ensues: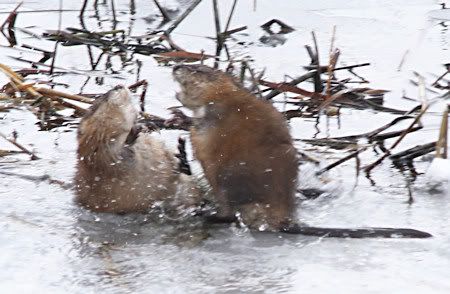 Maybe I'll get baby photos eventually if they stick around the same area.
Muskrat Love
, by America.
songfacts.com
"This was written by the Texas singer Willis Alan Ramsey in 1972, who recorded it as "Muskrat Candlelight." America recorded the song on their 1973 album Hat Trick before Captain & Tennille recorded their hit version in 1976...
This song really is about 2 muskrats making love. It's not to be taken seriously, and even contains synthesized sound effect to simulate the muskrat copulation. This sound was played at the end of the song and included in the end groove of the 45 single, so when the record ended, it played the muskrats on a loop until the record player was attended. "
Is that really true? I have no idea, lol.
Lyrics...
And now he's ticklin' her fancy
Rubbin' her ties
muzzle to muzzle now
anything goes
as they wiggle
and Sue starts to giggle
And they whirled and they twirled and they tangoed
Singin' and jinglin' the jango
Floatin' like the heavens above
It looks like muskrat love...