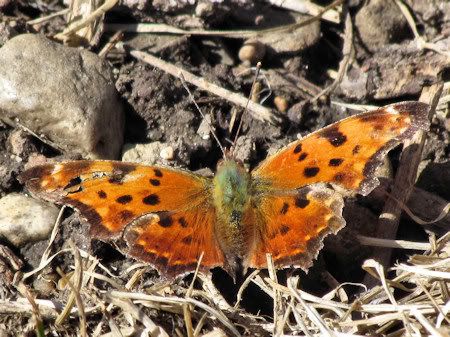 I think this butterfly is a Polygonia comma.
There's a winter and summer form. Must be the winter form.
I was surprised to see a butterfly this early. There was a break in the rainy/snowy overcast weather. It was sunny and maybe 45-50 degrees at about 10:30 am.
wisconsinbutterflies.org
(Has pics of winter and summer forms.)
"The Eastern Comma is the most common of the commas and is found throughout the state. Adults of this species hibernate and appear on warm sunny days in the early spring, even when there is still snow present. After a long winter it is a real pleasure to see these butterflies flying around."
bugguide
drill down to
Genus Polygonia - Commas, Question Mark
Species comma - Eastern Comma
wiki
ND Butterflies