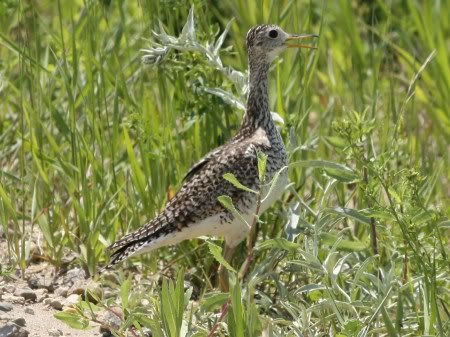 Upland Sandpiper (Bartramia longicauda) formerly known as Upland Plover.
Juvenile? standing along side of gravel road on the prairie.
Mama to the rescue: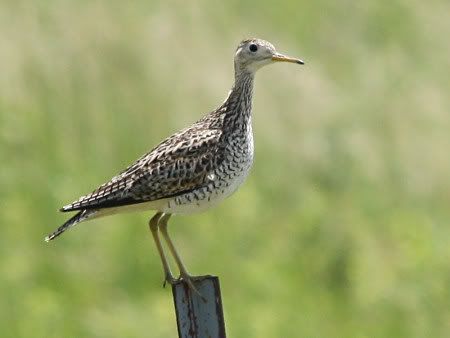 I could HEAR her coming before I saw her pop up out of the grass onto the fence post on the other side of the road.
Juvenile ran towards Mama.
That is my guess at what was happening.
The juvenile does not look very young, but the scene and behavior made me think it was probably a juvenile.
enature
cornell
A shorebird of grasslands, not shores, the Upland Sandpiper inhabits native prairie and other open grassy areas in North America.
Juvenile similar to adult, but with pale edges to back feathers.
Wolf-whistler
Sound at Cornell link has a good sample of this bird's wolf-whistle.
I always wondered what kind of bird made that sound! Now I know.
npwrc
Breeding Birds of North Dakota
Family scolopacidae
Upland plover (Bartramia longicauda (Becchstein))