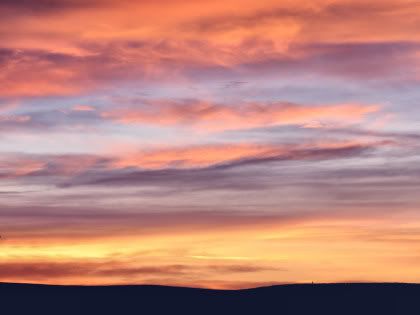 Click on above image to see larger size.
Okay, the colors are not at all what it looked like.
I saw a very pretty vivid sky blue against translucent creams and golden oranges, etc.
The camera with tele, straining to give me a picture in the too dark twilight, turned the vivid blue into a dull gray.
And well, the colors were just plain wrong.
But I liked the wispy cloud layers, textures, swirls I got when I zoomed in with the tele.
So I cropped wallpaper size and played with Curves.
I pulled down the Green and Red Channels.
I selected the gray area and then pulled up the Blue Channel.
Clarify 5 to increase cloud definition.
Note: Time stamp said borderline twilight/sunrise.