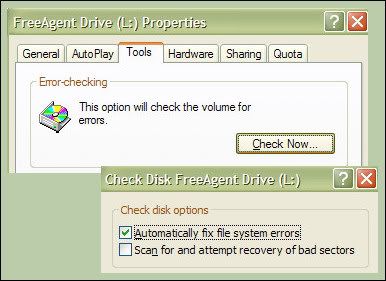 So I fired up one of my
Seagate
external backup drives and I couldn't access a folder.
That was a folder with about 92 GB of files in it.
Eek!
From within Windows Explorer
Right Click on Drive and select Properties.
Tools Tab, Check Now, check mark Automatically Fix File System Errors
Took a long time (500 GB drive). I almost thought is wasn't working.
But fixed it.
Yay!
Whew!
I think that's equal to chkdsk drive: /f switch.
I tried to just scan for errors but got a popup error and it would not work.
One of those moments I was ever so glad I had double backup drives.
Microsoft Links:
chkdsk
chkdsk2