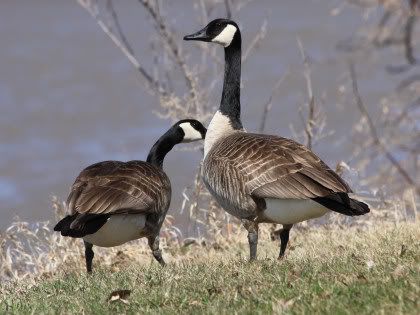 Things are still lookin' pretty brown and soggy around here.
The most interesting thing I saw this past weekend were Mr. and Mrs. Goose hanging out along the rec trail. (I guess they're a couple, I couldn't tell. heh heh)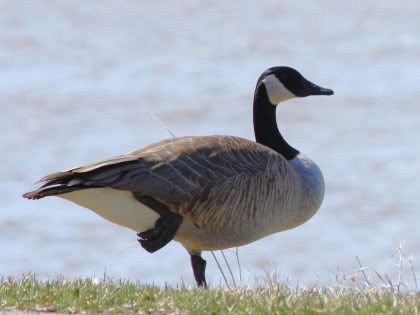 What's with the leg, I have no idea.
Okay, that's enough of this photo shoot, we're outa here.
The water looked muddy dirty that day and a fairly blue sky too.
Besides cropping, I added some fill flash to the foot pic post-processing. No sharpening. I liked them soft better.
These were all taken with my Canon XSi. I usually take BOTH cameras, the Canon S3 and XSi. The viewer is WAY better on the XSi in sunlight. Better quality goose feathers from the XSi. S3 is better at handheld great DOF--everything in focus and sharp. Typical point and shoot vs DSLR behavior, I guess. I'll probably always have BOTH types of cameras.
My next camera equipment purchase is probably going to be a
50mm f/1.4
lens for my XSi. I want to get creative with shallow DOF and learn how to work with such a thing.
Better build quality, better bokeh (background blur), better focusing than the cheapy
50mm f/1.8
lens.
After that purchase? Probably a
shoe-mount flash.
NOTE:
Canada Geese.
"Canadian Geese" is incorrect, evidently.
Previous pics:
here
and
here
NOTE2:
Standing on one leg is typical resting posture of (some/all?) birds, evidently.
Golden's Birds of North America
1983 Ed.,
now
2001 Ed.
Page 108 Behaviour of Shorebirds:
9. Dunlin standing on one foot, a

typical resting posture

of shorebirds.