Brookings, OR Day2
It was in the 80's, a little too warm for me. Cooler along the beaches, of course.
We went to the Azalea Park in Brookings, which is a pretty flower park, but the sun was too harsh on the flowers and I didn't like any of my pictures. I returned there later on a cloudy day, much better.
Then we went to Harris Beach.
This is my favorite pic from there: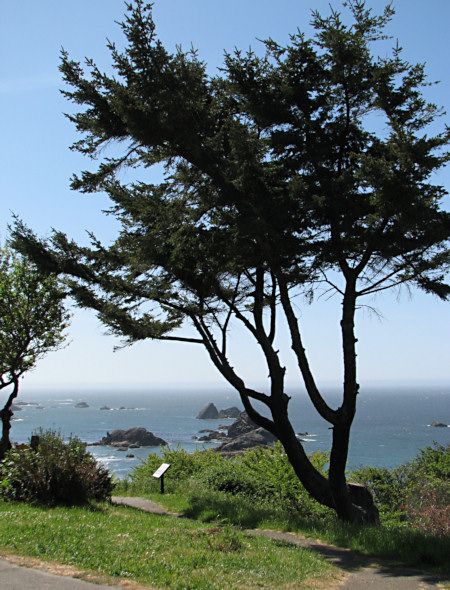 Purposely trying to incorporate foreground trees in photo for a different composition.
We return to Harris Beach on another day for the mysterious arch that we could not find on this day. More on that later.
What I enjoyed the most out of the day was hiking down/up a very primitive and isolated trail to what was supposed to be a bridge view. Thomas Creek Bridge. The highest bridge in Oregon, crosses 345 feet above creek bottom. Well, the bridge view was obscured by trees so you couldn't see much. But I got invigorated walking on the trail. It was cool and shaded and NOBODY around, just the two of us. I forget that this is what Oregon is like. You can go off in the woods by yourself and not see another soul. Here's a pic of the trail: