My new printer (supposed to use less ink):
Kodak ESP C315 Wireless Color Printer with Scanner & Copier
amazon
(Was $79.00)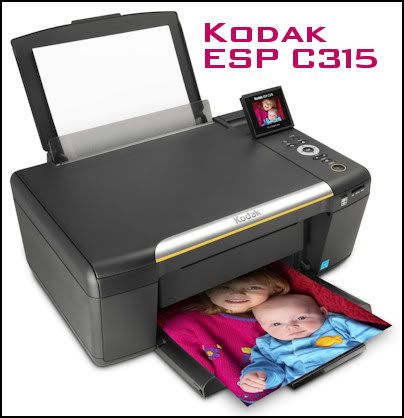 I followed the setup instructions without problems.
Until...
I had to install the print driver from the CD.
The CD just spun and spun in the drive and would not install.
So I googled the driver,
downloaded
from the Net and installed without problems.
It also prompted me for a firmware update, so I installed that as well.
(Note: It's easier/faster to google it instead of trying to find it at the
Kodak website
.)
I've copied, scanned, printed photos, printed text and I like the printer.
Printer menu is easy to figure out and navigate.
Later, I made changes to my network and had to uninstall and reinstall printer driver/software before it would work on my new wireless network setup.
More Links:
Manual pdf
Ink Cartridges
(Was $27.98)
I think the 3 sheets 4x6 sampler pack (6657217) photo paper I got with the printer is this type:
amazon
Kodak Ultra Premium Photo Paper, 4 x 6 Inches, High Gloss, 100 sheets (1833987)
Specifications: 74 lb. - 280 g/m² - 10 mil
Ideal for showcasing and framing
Heavy/thick paper
What the local stores have is:
"Photo Paper"
Specifications: 48 lb. - 180 g/m² - 6.5 mil
Perfect for everyday printing
Thin but adequate for my needs
amazon
(1743327)
100 sheets currently cost $6.95 at Amazon.
There's also something in between those two:
"Premium"
Specifications: 66 lb. - 250 g/m² - 8.5 mil
Ideal for photo albums and sharing
amazon
(1034388)
Paper grade/weight Specs at:
Kodak