"The best way out is always through."
—Robert Frost
The way out is through.
A familiar phrase to me.
I found out Robert Frost said something very similar, so I hunted down the reference.
It's from
A Servant to Servants
.
Archive.org:
The Poems of Robert Frost
Specific Page
The Road Not Taken
Robert Frost poetry
Biographical Preface
Running commentary by
Louis Untermeyer
(b 1 October 1885 – d. 18 Dec 1977)
Illustrations by
John O'Hara Cosgrave II
(b. 10 Oct 1908 - d. 11 May 1968)
I'm not sure about the copyright on these, but I like how it's presented in book form online and you can turn the pages and zoom in as desired.
There are plenty of other places on the Net that have Robert Frost poems as well.
Here's a story about Frost that I found interesting. He sent some of his poems to The Atlantic and was turned down.
Details of this in
Atlantic article
.
I found places online that I suspect spun the story into more than it was, and I could not verify, but this much of the story is straight from the source.
Found this photo of Frost when googling: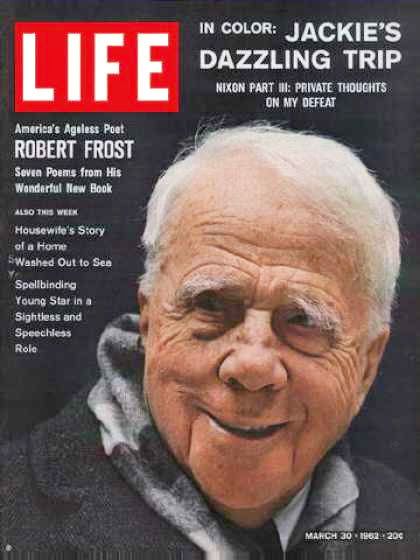 Frost on Cover of Life Magazine
Dated March 30, 1962
I liked this portrait of Frost so much I hunted it down.
Life Mag
Portrait Of Robert Frost
Portrait of smiling American poet Robert Frost, 1962.
A cropped version of this photograph was used on the cover of the March 30, 1962, issue of Life magazine.
Photo: Dmitri Kessel/Time & Life Pictures/Getty Images
Jan 01, 1962
The photographer (Kessel) is deceased.
Dmitri Kessel Obituary
Published: March 30, 1995
So Frost was almost 88 years old on that picture.
Notice Frost died about a year later.
Robert Frost at wiki
(b 26 Mar 1874 – d. 29 Jan 1963)
Frost spoke and read some poetry at the inauguration of President John F. Kennedy on 20 Jan 1961.
In 1962, he went to
Russia
.
Boy, he sure got around for someone who was in his late 80's.
Search for Robert Frost at Life Mag to find a JFK and Frost photo.
Also
google
for Robert Frost images at jfklibrary.org.
I blogged a Frost poem, Acquainted With The Night, earlier.
Here
The video is still at
YouTube
.
Ron Perlman's voice (Beauty and The Beast).
(I still really like this video - imagery/sound/reading/voice.)