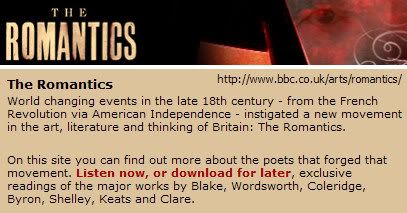 BBC Arts - Romantics
Oh, these are good poetry readings!
Free mp3's to download.
Wonderful British accent.
Nice voices, good pacing, etc.
Four years old already (2006); can't believe I've never found these before.
I was looking for Keats and Wordsworth, but the rest are probably good too.
Also, here's one at YouTube that I thought was good.
Robert Frost's
Acquainted With The Night
Ron Perlman's voice.
I think the audio is from the Beauty and the Beast TV series soundtrack?
Via
shmoop
Note: I like shmoop's literature sections:
Classic Plot Analysis
Booker's Seven Basic Plots
Three Act Plot Analysis
Google Books:
Keats
Wordsworth
At Gutenberg:
Keats
Wordsworth