I've been digging around in Google Books for poetry books.
Wow.
I hadn't realized how powerful that search was.
Tons of books are available in Full View and Public Domain.
I'm not sure what the difference is between those two.
I do notice that sometimes the images are more protected.
Can download pdf and often epub, which my Sony Reader supports.
It's a bit like digging around in old books at a library only without the sensory experience of touching and smelling those books.
But then, if I really get a hankering, I can ask Google Books what libraries in my area have the book.
Something that was not readily apparent to me is that there may be several versions of the same book available. That was a little confusing at first.
Sometimes there are different editions of the same book.
And/or the book(s) come from more than one library.
Note the file name spelling is goofy sometimes too.
Also, sometimes I can't search the book in Adobe pdf after I download it (images not text).
BUT, I CAN search the book at Google Books which has highlighting features.
Here are a few examples with the Google Books web page elements pasted together so they would fit my blog.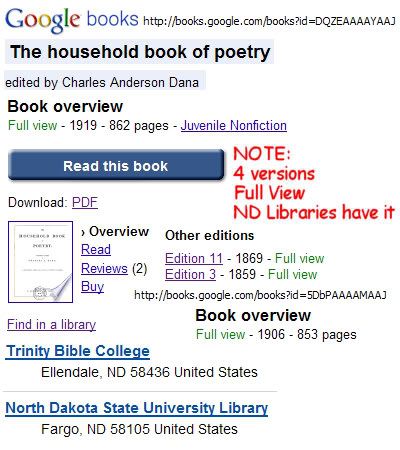 The household book of poetry
By Charles Anderson Dana
Version 1
Edition: 3 - 1859 - 798 pages
Version 2
Edition: 11 - 1869 - 816 pages
Version 3
1906 - 853 pages
Version 4
1919 - 862 pages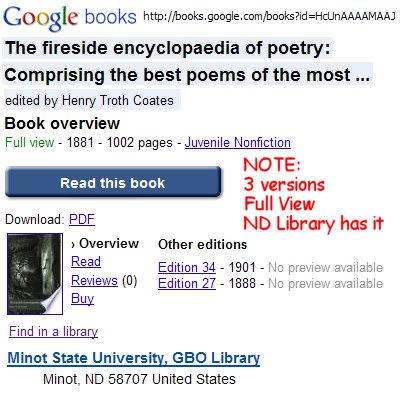 The fireside encyclopedia of poetry: comprising the best poems of the most ...
By Henry Troth Coates
Version 1
Edition: 34 - 1901 - 1002 pages
Version 2
1901 - 1027 pages
Version 3
1881 - 1002 pages
There could be more versions available of that one.
Info at google books:
Where do the books come from?
Currently, we are connecting readers with books in two ways:
the Partner Program
and
the Library Project
.
We're working with several major libraries to include their collections in Google Books...
If the book is out of copyright, you'll be able to view and download the entire book...
Library Partners
01. Bavarian State Library
02. Columbia University
03. Committee on Institutional Cooperation (CIC)
04. Cornell University Library
05. Harvard University
06. Ghent University Library
07. Keio University Library
08. Lyon Municipal Library
09. The National Library of Catalonia
10. The New York Public Library
11. Oxford University
12. Princeton University
13. Stanford University
14. University of California
15. University Complutense of Madrid
16. University Library of Lausanne
17. University of Michigan
18. University of Texas at Austin
19. University of Virginia
20. University of Wisconsin - Madison