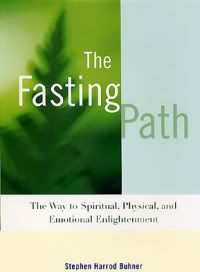 There used to be a good review of
Buhner's
Fasting Path book at
spiritualityhealth.com
website, but now I can't find it.
I'm posting it here in its entirety because it's evidently no longer at the website and because I thought it was helpful in understanding what the book is about.
Dead Link
for anybody that might want to try and dig it up in the Internet Archives.
No reviewer name.
The Fasting Path: The Way to Spiritual, Physical and Emotional Enlightenment
Stephen Harrod Buhner
Avery 09/03 Hardcover $22.95
ISBN 1583331700
Stephen Harrod Buhner is a master herbalist and psychotherapist. He is founder and senior researcher for the Foundation of Gaian Studies, an organization that researches and educates on the sacredness of the Earth, indigenous traditions and ceremonies, sacred plant medicine, and contemplative nature spirituality. His background makes him very qualified to write about the spiritual, physical and emotional dimensions of fasting.

In many indigenous cultures, food deprivation is an essential part of rituals at important transition points in life — adolescence, middle age, old age, and death. During vision quests, individuals spend time in the wilderness alone. As one indigenous person called Igjugarjuk put it: "All true wisdom is only to be learned far from the dwellings of men, out in the great solititudes." Buhner points out that this pattern of retreat to the natural world and engaging in fasting is also part of Judaism, Islam, Hinduism, Buddhism, Sufism, Taoism, and Christianity.

Many individuals are familiar with the use of water fasting to lose a large amount of weight or to deal with long-term chronic conditions, but this approach is also tailor-made for those seeking spiritual renewal. Buhner explains: "During deep fasting, what is called the rational mind is left behind for a time, and a different intelligence, located in the heart, is activated. During such fasts, reliance on two-dimensional sight begins to weaken, there is a thinning of the wall between us and all other things, and the organ of perception uniquely designed to perceive the sacred, the heart, begins to take on more and more importance. As deep fasts progress, as the veil between us and the spiritual world thins, the heart begins to perceive the hidden face of the sacred within everyday things."

One of the major surprises in this book is the author's enthusiastic and sophisticated examination of the major role of the heart, as known in the spiritual traditions, in fasting. Although most of us lose contact with the language of our hearts at ages four through six, this soulful connection can be reclaimed in fasting. As James Hillman has observed: "The heart brings us authentic tidings of invisible things."

Buhner discusses the changes that occur in the body during fasting, possible side effects, and some of the emotional issues that come to the surface such as survival, surrender, and trust. Fasting also forces us to deal with our bodies and the manifold meanings we give to food in our lives. The Fasting Path is a rounded and fascinating overview of this little discussed subject.
Dead Link
for anybody that might want to try and dig it up in the Internet Archives.
An Excerpt from The Fasting Path: The Way to Spiritual, Physical, and Emotional Enlightenment by Stephen Harrod Buhner
Stephen Harrod Buhner discusses fasting as a path to spiritual, physical, and emotional enlightenment.
Here is an excerpt on 16 essential steps to every fast.
1. Determine if you are ready for a fast.
2. Decide what kind of fast is most supportive for you to do.
3. Arrange or set aside a special time for your fast.
4. Decide how long you are going to fast.
5. Arrange a supportive environment for the fast.
6. Begin eating a new diet to prepare your body for the fast for two or ten weeks prior to the fast.
7. If you are conducting your own fast, obtain good water and/or good foods to juice and drink during your fast.
8. Set your spiritual goals for the fast.
9. Set your emotional goals for the fast.
10. Set your physical goals for the fast.
11. Arrange sufficient time after the fast for you and your body to reintegrate and be ready for resuming daily life.
12. Keep a journal of your fast.
13. Fast with conscious attention to the process.
14. Break the fast with caring and awareness; especially make sure that you have the right kinds of foods on hand for breaking the fast.
15. After the fast, spend some time with someone who cares about you and whom you care about and tell this person about your experiences.
16. Incorporate the lessons of the fast into daily life.
UPDATE:
I found the book review online,
here
.
It is by Frederic and Mary Ann Brussat