Well, I bought an ebook reader (14 day try out).
Surprise.
I wasn't headed in that direction at the beginning.
There are really only three main/top contenders on the market right now for ebook readers.
1. Amazon's Kindle
2. Barnes and Noble's Nook
3. Sony models
There are
more models
if a person wants to plow thru all that info.
There are tons of reviews online for detailed pros and cons of each device.
Basically, Sony is less restrictive than the other two, and that is why I focused more on Sony brand.
I found both 300 pocket and 600 touchpad Sony models locally so was able to get a hands-on look at them.
I was a little shocked at how small the display area was on the 300 pocket.
Even the 600 display seems too small.
Display sizes are diagonal.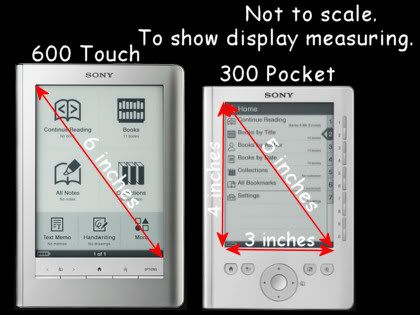 My biggest concern about the 600 is the touchpad display's glossy sheen and low contrast.
Adjusting the tilt/angle of the device helps reduce glare.
Increasing the font size, which the reader can do, helps with the low contrast issue.
If the reader had the capability of bolding the text, that would even be better.
Just to experiment, I converted a non-DRM pdf to rtf using
Calibre
. Opened the rtf in Word and bolded the text. Then converted and imported to reader using Calibre. That worked, although formatting gets a little dicey and unpredictable with that method.
I like to read in bed, so I already have a good adjustable clip-on night light attached to my bed headboard. Light source is coming from the back right side and I found this to be one of the better ways to use the reader as far as the glare/dim issue goes.
I really like the touchpad/stylus interface.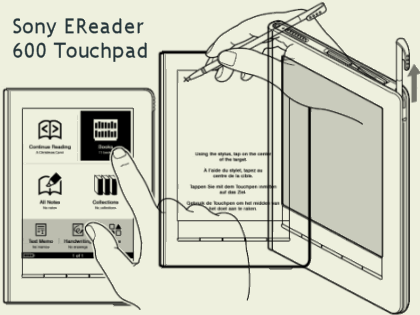 And the more I use the Sony 600, the more I like it. A small reading display area requires much more navigation work. I'm constantly turning the page. Swiping with my finger is much easier than pushing a button to turn the page. Doesn't seem like a big deal until you do it repeatedly.
I've been giving the Sony 600 reader a workout, trying the different features:
navigation, search, dictionary, notes, highlight, underline, draw, etc.
Observations:
1. Use of features really sucks up the battery power. I had to recharge it already. If I have to recharge the battery that often, it would almost be better to have an AC adapter (AC-S5220E) to recharge it.
2. It does something really odd and unexpected with bookmarks, highlights, underline.
Every word underlined generates two separate IMAGE files, a jpg thumb and a svg line.
The "All Notes" folder on the Home Menu has a separate note file for every bookmark, every highlight, every underlined word. I expected ONE Note file per book. That would quickly become a mixed up unmanageable mess if you are marking up more than one book.
Fortunately, I was able to delete all those files thru the menu system on the device. Whew.
STARTUP NOTES:
Step 1
Recharge battery via computer USB port.
Battery is fully charged when red light shuts off.
Takes about 3 1/2 to 4 hours.
Step 2
Unplug device and wait for prompts
to press the center of the X's displayed on screen with stylus.
Some kind of setup or initialization process.
Step 3
Hook up to computer via USB again.
Prompt to install software.
Did not install--yet.
Refer to
Troubleshooting Thread
.
Step 4
Used
Calibre
software instead.
I put some free public doman classics epubs on the reader.
Tags in Calibre = Collections/Folders on Sony Reader.
WARNING: Can create new Collections/Folders, BUT there is no way to delete them.
Device Drive:\database\cache\media.xlm
<xs1:playlist title="
/>
To delete an *empty* Collection/Folder,
I opened the above xlm file in WordPad and deleted the command line that referenced the undesired folder.
Look for "playlist title" followed by the Tag name Calibre assigned to it.
It worked.
Yikes!, though.
I've been hanging out at the
mobileread forums
.
This is where I get all these scary ideas.
If things get really screwed up, you can even
hard reset
.
I put the unzipped User Manual PDF (zipped on device) and startup manual PDF (found online) on device.
I made some screenshots of the user manual, saved them as gifs (cleaner text), and put those on the reader also. I wanted to see how those would look on the reader.
Gif image sizes ranged from 488x619 pixels to 516x753 pixels and they were readable. I wouldn't go any bigger than that.
Step 5
I removed the books and images that came with the device.
Used Win Explorer to access the Device Drive and found the files and moved them off device to hard drive for now.
I kept the two mp3 files that were on there.
Step 6
The Sony 600 does come with a neoprene carry bag, but I bought a leather book cover with light that's especially made for this model (pic below) so snaps together nicely and still have access to all buttons, etc. The book light is a little weak, so probably need more lighting than that alone.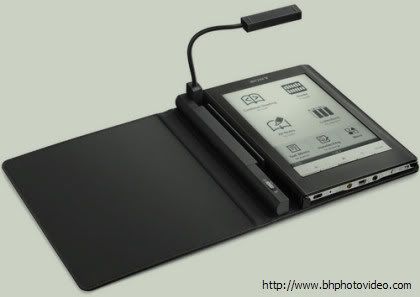 Sony Reader Info Links:
Can buy online at B&H:
Sony 600
Sony PRS600BC Reader Touch Edition (Black)
Book Cover Light
Sony PRSA-CL6 Reader Digital Book Cover with Light
Sony Readers
(wiki)
Manuals
EBooks:
EBook Search
(List prices/format)
Gutenberg
Free. Several different formats.
epub is for Sony Readers.
google books
Look for Classics (free EPUB downloads).
Can download pdf or epub file type.
DRM-Free
Kobo
has a free ebooks section.
GirleBooks
also has some freebies.