I've been delving into the land of ebooks and readers.
The readers are too expensive and too restrictive.
A Laptop is too heavy, bulky to use as a reader.
Netbook maybe? That would not replace my main computer, but it could do lots more than the ebook readers.
So Netbook vs Ebook Reader.
Well, the Ebook reader might be easier on the eyes.
But the Netbook would give a whole lot more for the price. I'd have a lot more flexibility over ebook formatting and would have more adjustments available for any eye strain issues.
If I buy anything, I'll blog about it.
I like the
mobileread forums
for information.
Here's one post in particular I was studying/researching:
Netbook Tablet as a Viable eBook Reader Option
02-13-2010
jswinden
ASUS T91MT TABLET NETBOOK
2.1 lbs
8.9" Screen
1 GB RAM, up to 2 GB
LCD screen can be rotated and folded back onto the keyboard to form a tablet netbook.
A resistive touch screen responsive to fingers or a stylus.
Just reading, he gets at least six hours battery use.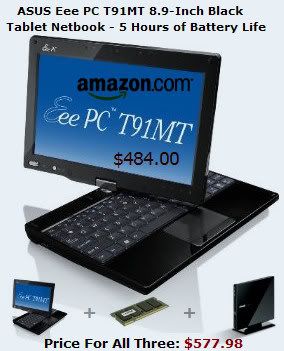 Video review embedded there or here's the
direct link
.
Amazon Link:
ASUS Eee PC T91MT 8.9-Inch Black Tablet Netbook - 5 Hours of Battery Life
$484.00
Another Review
1.33 GHz Intel Atom Z520 processor
Only 32 GB Hard Drive
two USB ports
two SD or SDHC memory card slots.
Windows 7
From there I could install whatever ebook software I wanted, which is free, evidently.
While I was reading this, I found out about
Calibre
software that's good for converting non-DRM eBooks to other formats.
I installed it and ran it thru a little test drive conversion. It has a lot of different options/settings, so lots of control over the conversion. I like that.
It converts pdf to txt format.
Adobe Reader 9.3.0 will do that too, but became a memory hog and made my computer really grind.
So Calibre is much more efficient at the job.
Another thing I noticed while poking around in Adobe Reader is it has a read outloud option. So had to try it. That also was sluggish, but it did work.
Amazon Links to Kindle Ebook Readers:
Kindle 2
Kindle 2 - 6" display is $260.00
Kindle DX
Kindle DX - 9.7" display is $490.00