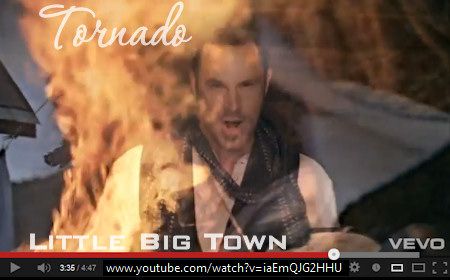 Little Big Town - Tornado
Hey, not bad for a country song. HA
Don't mess with me, I'm a tornado.
lyrics
songfacts
The song compares a scorned woman to a force of nature, and features an ominous chorus in which the protagonist threatens to destroy the house that she shares with her wayward man. "Natalie played it for us one night and we were like, man, I don't think I've ever heard a chick say, 'I'm a tornado,'" said Fairchild.
wiki
Little Big Town is an American country music vocal group. Founded in 1998, the group has comprised the same four members since its inception: Karen Fairchild, Kimberly Schlapman, Jimi Westbrook, and Phillip Sweet.
Little Big Town's fifth studio album, Tornado, was released on September 11, 2012.
The album's second single, "Tornado," was released on October 1, 2012.
Karen Fairchild and Jimi Westbrook married on May 31, 2006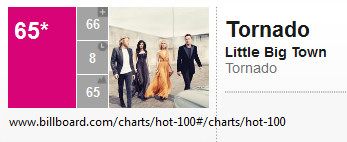 Moving up the charts.
65 on the
Hot 100 billboard
when I found the song.