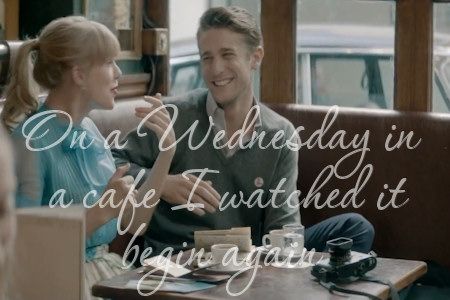 Listening to:
Begin Again
Taylor Swift
(b. 13 Dec 1989)
Published on Oct 23, 2012.
Photos
October 1 - On set of the 'Begin Again' music video in Paris, France
Track List of Album Red
(Her fourth album.)
I also like:
(Not official so videos probably won't last long at youtube.)
Holy Ground
(Upbeat song. Abruptly cuts off at the end. Best quality.)
It was good never looking down.
And right there where we stood was holy ground.
22
(Has an Avril Lavigne sound.)
We're happy free confused and lonely at the same time.
I'm feeling 22.
More songs I've added to my playlist recently:
Katy Perry - Wide Awake
Imagine Dragons - It's Time
Cher Lloyd - Want U Back
(This one grew on me because of how expressive it is. I love the little "grunts" inserted into the song, or whatever you'd call them.)
Song Rising:
OneRepublic - Feel Again
I had to dig in the billboard charts to find this one. I predict it will rise to number 1 or close to it.
It's currently 56 on the
billboard hot 100
.